Pot Metal… the Pits!
Pot metal is basically zinc with some other things thrown in for good measure. It is also referred to as die cast, because it is cast in a mold.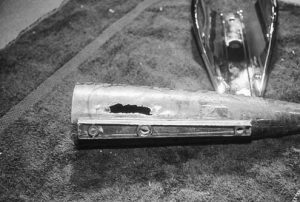 Almost all pot metal has pits. During the casting process, air bubbles get trapped as the metal is poured into the mold. This is why it is possible to have an NOS (new old stock) piece that has never been on a car and yet it is pitted. Pits can range in size from a pin point to an entire section of the piece. It is nearly impossible to tell how badly pitted a piece is until the chrome is stripped off. If the piece looks like a cheese pizza, chances are the trim underneath is going to be very corroded.
There are three ways to restore pitted pot metal, all with varying levels of success: